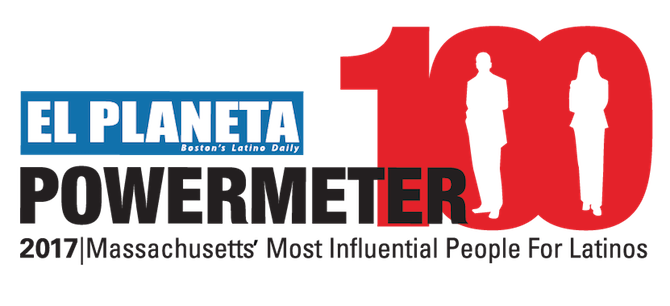 ¡AQUÍ ESTÁN! / HERE THEY ARE!
The 2017 Powermeter 100 Honorees
¡Revelamos la lista de las 100 personas más influyentes para la comunidad hispana de Massachusetts! Esta diversa lista presenta 100 personas excepcionales que han trabajado para mejorar las vidas de los latinos de la región. Prepárese a leer nuestra edición impresa y nuestra edición digital con blurbs en inglés y español, y más contenido relacionado al Powermeter 100.
Here they are! Massachusetts 100 most influential people for the Hispanic community. This diverse list presents one hundred powerful individuals from all walks of life. Look for our upcoming print and digital editions which will contain bilingual blurbs of all Honorees and additional content related to The Powermeter 100.

Rosalyn Acosta, Massachusetts Sec. Workforce Development
Carolina Alarco, Aegerion Pharmaceutical / Milagros para Ninos
Marcela Aldaz-Matos, Partners Healthcare
Marcony Almeida, Office of Massachusetts Attorney General
Greg Almieda, Global View Communications
Marisol Amaya, La Alianza Hispana
Thomas Ambrosino, City Manager, City of Chelsea
Janine Anzalota, Executive director fair housing and equity City of Boston
Felix D. Arroyo, Register, Suffolk Probate & Family Court
Roy Avellaneda, Councillor At-Large, City of Chelsea
Ruben Azocar, Tufts Medical Center
Charlie Baker, Governor of the Commonwealth of Massachusetts
Molly Baldwin, ROCA
Phyllis Barajas, Conexión
Javier Barrientos, Biogen
Javier Bellini, Eastern Bank
Vanessa Calderon-Rosado, Inquilinos Boricuas en Acción - IBA
Alberto Calvo, Stop and Compare Supermarket / Chelsea Chamber of Commerce
Nurys Camargo, CHICA Project
Ileana Cintron, Holyoke Public Schools
Dharma Cortes, Harvard School of Medicine
Yasmin Cruz, Brown Advisory
Rich Cuthie, Chelsea Chamber of Commerce
Jose De la Rosa, Guardian Healthcare, LLC
David Del Mar, Resilient Coders
Janin Duran, Entrepreneurship for All (EforAll)
Benjamin Echevarria, The Welcome Project
Ivan Espinoza Madrigal, Lawyers Committee Economic and Social Justice
Amanda Fernandez, Latinos for Education
Sharon Fosbury, The Neighborhood Developers
Paul Francisco, State Street Corporation
Betty Francisco, Latina Circle Amplify
Yvonne Garcia, ALPFA National
Judith Garcia, Chelsea City Council
Philip Giffee, Neighborhood of Affordable Housing
Thomas Glynn, Massport
Regla Gonzalez, LULAC Massachusetts
Cristina Gonzalez, Staples
Maria Gonzalez Albuixech, Health Care for All
Louis Gutierrez, Massachusetts Health Connector
Maura Healey, Attorney General of Massachusetts
Julio Henriquez, The Law Offices of Julio Henriquez
Pablo Hernandez, Edward M. Kennedy Community Health Center
Monse Hood, RevereTV
Deborah Jackson, Cambridge College
Tito Jackson, Boston Councillor District 7
Sergio Jaramillo, Chelsea Chamber of Commerce / Broadway Jewelers
Enna Jimenez, Wellington Management
Joseph Kennedy III, US Rep. for Mass. 4th Congressional District
Brian Keyes, Chelsea Police Department
Ruddy Lazo, Consul de El Salvador en Boston
Julie Levison, Massachusetts General Hospital
Janelle Liceaga Rojas, Akamai
Juan Lopera, Tufts Health Plan
Keri Rodrigues Lorenzo, Massachusetts Parents United (MPU)
Manny Lopes, East Boston Neighborhood Health Center
Frances Martinez, North Shore Latino Business Association
Marty Martinez, Mass Mentoring
José Massó, WBUR ¡Con Salsa!
Julia Mejia, CPLAN
Georgiana Melendez, Umass Boston
Oswald Mondejar, Partners Healthcare
Patricia Montes, Centro Presente
Will Morales, Boston Commissioner, Centers for Youth and Families
David Morales, Steward Health Care System
Marcela Mosquera, NEACOL
Yadires Nova Salcedo y Angel Salcedo, Encuentro Latino
Michelle O'Berg Figueroa, Univision, CNN
Alexandra Oliver-Davila, Sociedad Latina
Cynthia Orellana, University of Massachusetts Boston.
Hector y Nivia Pina, Merengue, Vejigantes and Doña Habana
Lucy Pineda, LUMA
Karleen Porcena, Local Initiatives Support Corporation
Yakeel Quiroz, Massachusetts General Hospital MUNDOS
Emilio Rabasa Gamboa, Consul de Mexico en Boston
Simon Rios, WBUR
Daniel Rivera, Mayor, City of Lawrence
Roxana Rivera, 32BJ SEIU
Marta Rivera, Greater Boston Latino Network
Jose Rivera Adrovet, Telemundo Boston
Robert Rivers, Eastern Bank
Veronica Robles y Willy Lopez, Veronica Robles Cultural Center
Jabes Rojas, Governor's Office Deputy Chief of Staff for Access & Opportunity
Eneida Roman, Latina Circle Amplify
Jeffrey Sanchez, State Rep. 15th Suffolk District, Chair House Ways and Means Committee
Carlos E. Santiago, Massachusetts Commissioner of Higher Education
Steven Snyder, East Boston Neighborhood Health Center
Alejandra St. Guillen, Mayor's Office of Immigrant Advancement
Madeleine Steczynski, ZUMIX
Beatriz Stein Stein, AENI, Ecuadorian Consulate
Giselle Sterling, City of Boston, Commissioner Veterans' Services
Francisco Urena, Massachusetts Secretary of Veterans Affairs
Katiuska Valiente, Univision
Andy Vargas, Haverhill City Council
Kendrys Vasquez, City Council, City of Lawrence
Gladys Vega, Chelsea Collaborative
Damali Vidot, Councillor At-Large, City of Chelsea
Martin J. Walsh, Mayor of Boston
Isabel Wright, New England Association for Colombian Children (NEACOL)
Michelle Wu, Councillor At-Large / President, Boston City Council

The 2017 Powermeter 100 Judges
Lazaro Lopez, Area Manager Installation & Maintenance / Construction, Verizon
Lazaro Lopez (Laz) is the Area Manager Installation & Maintenance / Construction for Verizon's Metro Boston South region with Operational responsibility for Verizon's Boston FiOS deployment. He leads a team of 150 dynamic, engaged employees responsible for the Construction, Installation, Customer Care and Service delivery of FiOS (voice, video and data), Fiber to the Cell Site, Ethernet, Hi Speed Data and Voice services to 350,000 Residence, Small and Large Business customers. Lopez is active in civic and charitable organizations serving on the Governor's Latino Advisory Commision, Governor's Advisory Council for Refugees and Immigrants and the Latino Legacy Fund at The Boston Foundation.
Amanda Martinez, Executive Director, Latino STEM Alliance
Amanda is an award winning diversity professional with exceptional creative and analytical ability to align strategy with business and organizational needs, develop focused initiatives and provide tactical and strategic grassroots solutions.
Rafael Ulloa, El Planeta Media Executive Editor
Rafael is a founding team member of El Planeta Media, publisher of El Planeta Newspaper in Massachusetts and El Tiempo Latino in Washington, DC. He also produces/hosts El Planeta Hoy TV specials for WCEA TV in Boston.
Tibisay Zea, El Planeta Media Senior Reporter
Tibisay is a bilingual journalist native from Venezuela. She has worked for media organizations in Venezuela, Spain and the United States. As a Senior Reporter for El Planeta Media, the largest Spanish newspaper in Greater Boston, she has covered a wide range of stories concerning the Latino Community. Last year, she was awarded aNew America Media fellowship for reporting about the impact of climate change and resilience in East Boston. This year she was also awarded with a Journalist in Aging Fellowship from the Gerontological Society of America to investigate the challenges that face Latinos undocumented elders in New England. She also covered the Boston marathon bombings for the prestigious ABC newspaper in Spain.